I am very pleased to announce that SQL Server MVP, author and renowned speaker Grant Fritchey is coming to the Carolinas, this month. Gather all your friends and associates in the SQL Server community for his cruise from Raleigh to Charlotte to Columbia, May 20-22. You may remember the original Carolina Cruise featuring Kevin Kline in December of 2009. Kevin, of course, did a fantastic job and finally the Carolinas have recovered enough for a second round of this craziness. I doubt Grant will be sailing but this photo does a fair job of supporting the cruise theme: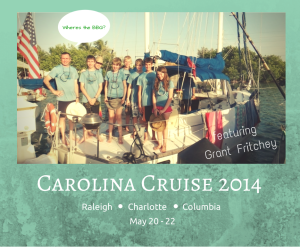 This time around, it's three cities, three PASS Chapters, three excellent technical presentations, plenty of beautiful Carolina countryside in-between and probably some Carolina BBQ and a few beers too. Grant will be presenting:
Building a Database Deployment Pipeline:
The pace of business accelerates fairly continuously and application development moves right with it. But we're still trying to deploy databases the same way we did 10 years ago. This session addresses the need for changes in organizational structure, process and technology necessary to arrive at a nimble, fast, automatable and continuous database deployment process. We'll use actual customer case studies to illustrate both the common methods and the unique context that led to a continuous delivery process that is best described as a pipeline. You will learn how to customize common practices and tool sets to build a database deployment pipeline unique to your environment in order to speed your own database delivery while still protecting your organization's most valuable asset, it's data.
I strongly suggest you follow Grant on Twitter and read his blog.
Grant's agenda:
Tues, May 20 TriPass – Raleigh, NC Click to Register
Wed, May 21 CSSUG – Charlotte, NC Click to Register
Thurs, May 22 Midlands PASS – Columbia, SC Click to Register
Please spread the word on this unique opportunity to see Grant Fritchey and be part of the second Carolina Cruise. If you are on Twitter, you can follow and support Grant's progress with the hash tag #CarolinaCruise.
See you at the meeting,
Peter Shire
President