---
Charlotte, NC has a dynamic, growing business environment filled with opportunities for Microsoft SQL Server professionals. The goal of the Charlotte SQL Server User Group is to encourage and support the growth of that environment by providing a venue for user education and peer collaboration.
• Connect with Database Administrators and Business Intelligence professionals from the Charlotte, NC region at our monthly meetings. Free food is provided by our sponsors.
• Share your knowledge within the Chapter and improve your presentation skills.
• Grow your personal network with local business contacts and recruiters at our events
• Improve your database skills with our excellent training delivered by the finest industry experts and MVPs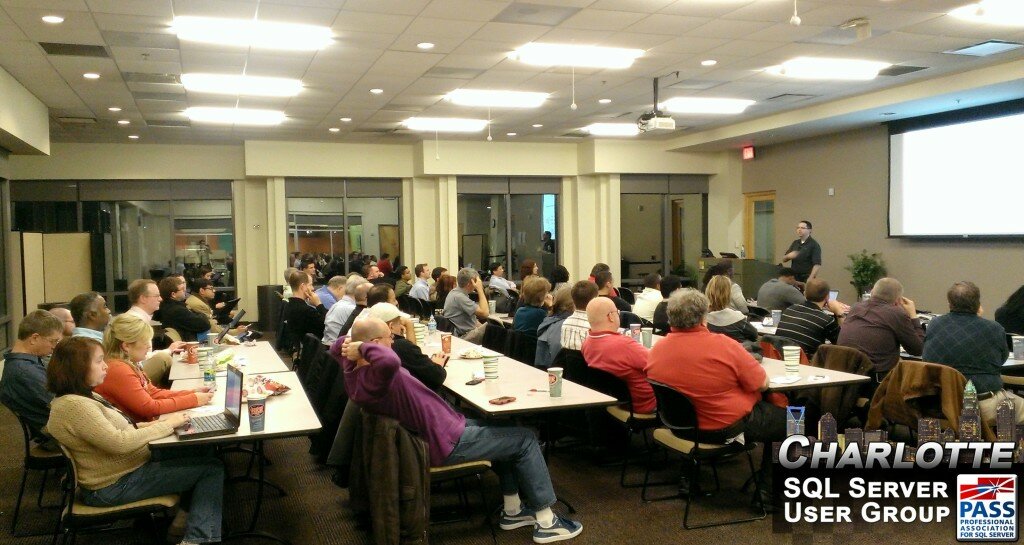 You are Invited – Join us for our monthly meetings
We meet once monthly for 2 hours for friendly networking and expert training sessions covering a variety of Microsoft SQL Server topics. Stay in touch to learn when the next meetup is planned, by signing up for our email announcements. It's free and food is provided. RSVP is required for each meeting using the email links provided monthly.
Next Meeting:
---
December Meeting Invitation
Please join us for the monthly Charlotte SQL Server User Group evening meeting.
What

~ Charlotte SQL Server User Group Meeting

When

~ Wednesday, December 9th, 2015

5:30 PM Networking with Food & Refreshments
6:00 PM Technical Presentation
7:30 PM Meeting End

Where

@ 8055 Microsoft Way, Charlotte, NC 28273

Map it

Presenters

– 

Greg Gonzalez and Jason Hall of SQL Sentry

Topic

– Ultimate Plan Explorer


Registration

– Free RSVP required at EventBrite

Greg Gonzalez 

CEO of SQL Sentry


Greg provides strategic leadership for SQL Sentry and is intimately involved with the product design and development.  Greg founded InterCerve in 1997, a successful Microsoft-focused application development and hosting services provider. He created the SQL Sentry business unit in 2004, initially to help InterCerve's hosting team combat the pain they were experiencing trying to manage over 50 SQL Servers for hosting clients. The first product, Event Manager, worked so well that a new division was created to continue developing and marketing the software. InterCerve's hosting division saw strong growth every year until it was acquired by Peak 10 in 2006. This move has enabled Greg and his talented technical team to focus their energies on SQL Sentry software ever since, with dramatic results. Previous experience includes technology consulting for various Fortune 500 companies, and application development and management for Baxter Healthcare Corporation. Greg has a BA in Business Psychology from Miami University in Oxford, OH.
Follow Greg on Twitter:
www.twitter.com/SQLsensei

Jason Hall  Director of Product Management, SQL Sentry Inc.
Jason Hall (@SQLSaurus) leads SQL Sentry's Product Management team, which is responsible for managing product design, development and delivery. Jason specializes in new and existing product enhancements for SQL Sentry Performance Advisor, Event Manager, and Plan Explorer.
Jason has worked in varied technology roles for 18 years and holds industry certifications including MCSD, MCTS, MCPD, and PMC-III.
Follow Jason on Twitter: www.twitter.com/SQLSaurus

Ultimate Plan Explorer 

 Offered free of charge to the SQL Server community, SQL Sentry Plan Explorer has become the tool of choice for tens of thousands of SQL Server professionals working to improve query performance through execution plan analysis. Jason Hall and Greg Gonzalez  will dive deep into SQL Sentry Plan Explorer, showing just how much can be revealed through query plan analysis. After the session, unlike "Ebenezer Scrooge", Jason and Greg aren't afraid of shadows that reveal the future. They may be convinced to reveal a glimpse of what's in store for Plan Explorer vNext!