---
Charlotte, NC has a dynamic, growing business environment filled with opportunities for Microsoft SQL Server professionals. The goal of the Charlotte SQL Server User Group is to encourage and support the growth of that environment by providing a venue for user education and peer collaboration.
• Connect with Database Administrators and Business Intelligence professionals from the Charlotte, NC region at our monthly meetings. Free food is provided by our sponsors.
• Share your knowledge within the Chapter and improve your presentation skills.
• Grow your personal network with local business contacts and recruiters at our events
• Improve your database skills with our excellent training delivered by the finest industry experts and MVPs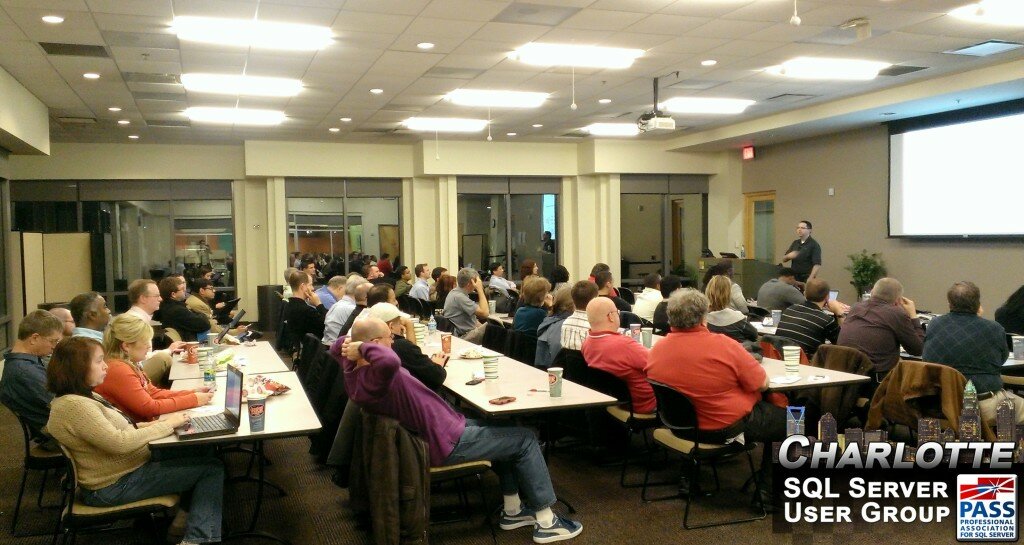 You are Invited – Join us for our monthly meetings
We meet once monthly for 2 hours for friendly networking and expert training sessions covering a variety of Microsoft SQL Server topics. Stay in touch to learn when the next meetup is planned, by signing up for our email announcements. It's free and food is provided. RSVP is required for each meeting using the email links provided monthly.
 Next Meeting:
---
May Meeting Invitation
Please join us for the monthly Charlotte SQL Server User Group evening meeting.
What

~ Charlotte SQL Server User Group Meeting

When

~ Wednesday, May 17th, 2017

5:30 PM Networking with Food & Refreshments
6:00 PM Technical Presentation
7:30 PM Meeting End

Where

@ 8055 Microsoft Way, Charlotte, NC 28273

Map it

Presenter

 –

Ted Malone

Topic

– 

Extending your Business Intelligence process with Power BI and Advanced Analytics

Registration

– Free RSVP required at EventBrite
Ted Malone


Solutions Architect Data and Cloud Microsoft 


Ted Malone is the Big Data, Advanced Analytics, and Machine Learning Technologies lead for Microsoft Federal and is based in Washington, DC (although he lives in Scottsdale, AZ). In this role, Ted engages with Microsoft's Federal customers to evangelize the Microsoft Big Data Analytics story and to educate them on new and exciting ways to gain insight from both unstructured and structured data within their environments as well as incorporate Microsoft's suite of Advanced Analytics and Machine Learning capabilities.
Prior to joining Microsoft, Ted was a Software Architect in the CTO office for EMC, where he led the design and development of enterprise storage management solutions that leverage Big Data and complex Business Intelligence technologies.
Ted is a "Data Guy" that has developed and deployed data insight solutions for more than two decades, and has worked with Microsoft SQL Server since version 1 (Which was installed on OS/2).
Ted has been a featured speaker at many industry conferences and events, including Microsoft's Federal Forum, Microsoft Tech Ed, Microsoft TechReady, Meritalk, AFCEA, The Professional Association for SQL Server (PASS), Dev Connections and many more.
Connect with Ted on LinkedIn
Extending your Business Intelligence process with Power BI and Advanced Analytics
In this session, we will discuss Microsoft Power BI and it's Advanced Analytics capabilities. Attendees will learn about Microsoft's investments in the Advanced Analytics and Data Science arena, and will gain a broad understanding of the capabilities delivered by the platform. Attendees will learn how to incorporate Machine Learning and Predictive Analytics into their BI projects, and will see how the Power BI suite of tools and capabilities was used to deliver a response to a White House "Call to Action" related to traffic fatalities. Attendees will also receive a brief introduction to the Microsoft Data Science Virtual Machine in Azure and will understand how it can be used to develop advanced BI capabilities.
PASS Summit 2017:
---
Several thousand SQL Server users, database administrators, and database developers gather each year at the PASS Summit–a national conference with top notch networking, keynotes presented by the most influential experts in the field, and over 175 choices for breakout sessions to go in depth.
This year's Summit is at the Washington State Convention and Trade Center in downtown Seattle, WA.
The dates are:  Main Conference Oct 31-Nov 3, Preconference Oct 29-30th
We have a special Charlotte SQL Server User Group Referral code: LC15SNQ2
This will give you $150 off the PASS Summit registration, and kicks back at least $50 to our local user group chapter.
*Note: The discount code cannot be combined with any other PASS Summit 2017 registration, and cannot be applied retroactively.
Register at http://www.pass.org/summit/2017/registernow.aspx
2017 Tentative Meeting Dates:
---
We are saving these dates as the tentative meeting dates for 2017 Calendar year. We typically meet on the third Wednesday of each month.
We may change the meeting date depending on speaker availability and other factors, so please confirm via the official invitation before you commit to your calendar.
Wed Jan 18th 2017 (Third Wed)
Wed Feb 15th 2017 (Third Wed)
Wed Mar 8th 2017 (Second Wed)
Wed Apr 19th 2017 (Third Wed)
Wed May 17th 2017 (Third Wed)
Wed June 21st 2017 (Third Wed)
Friday July 7th 2017 (First Friday) special guest speaker, Kevin Kline
Wed July 19th 2017 (Third Wed)
Wed Aug 16th 2017 (Third Wed)
Wed Sept 20th 2017 (Third Wed)
Wed Oct 18th 2017 (Third Wed)
Wed Nov 15th 2017 (Third Wed)
Wed Dec 13th 2017 (Second Wed)