---
Charlotte, NC has a dynamic, growing business environment filled with opportunities for Microsoft SQL Server professionals. The goal of the Charlotte SQL Server User Group is to encourage and support the growth of that environment by providing a venue for user education and peer collaboration.
• Connect with Database Administrators and Business Intelligence professionals from the Charlotte, NC region at our monthly meetings. Free food is provided by our sponsors.
• Share your knowledge within the Chapter and improve your presentation skills.
• Grow your personal network with local business contacts and recruiters at our events
• Improve your database skills with our excellent training delivered by the finest industry experts and MVPs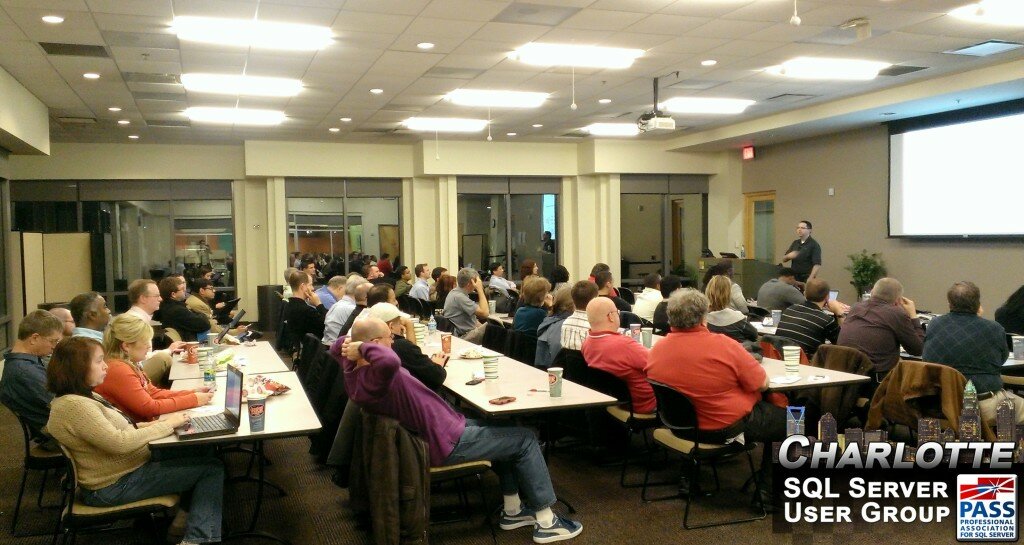 You are Invited – Join us for our monthly meetings
We meet once monthly for 2 hours for friendly networking and expert training sessions covering a variety of Microsoft SQL Server topics. Stay in touch to learn when the next meetup is planned, by signing up for our email announcements. It's free and food is provided. RSVP is required for each meeting using the email links provided monthly.
Next Meeting:
---
January Meeting Invitation
Please join us for the monthly Charlotte SQL Server User Group evening meeting.
What

~ Charlotte SQL Server User Group Meeting

When

~ Wednesday, January 18th, 2017

5:30 PM Networking with Food & Refreshments
6:00 PM Technical Presentation
7:30 PM Meeting End

Where

@ 8055 Microsoft Way, Charlotte, NC 28273

Map it

Presenter

 –

Jana Sattainathan

Topic

– 

Instrument your code – Basic TSQL Logging

Registration

– Free RSVP required at EventBrite
Jana Sattainathan
Senior DBA, SCOR
Jana works as a Senior Oracle and SQL Server DBA at SCOR, a leading Reinsurance company in the world. He has spent most of his professional life around databases. He has automated most aspects of his job using PowerShell. Most recently, he created PowerPump, a "PowerShell Database Copy Server" for his company to migrate 55 billion rows (20 TB, within 48 hours)  in 4000 tables from Oracle to SQL Server. He also created Vault, a central repository for hundreds of instances his team manages to collect any data about/from them quickly for analysis.

He has the customary SQL & Oracle certifications and in his free time, he dabbles in .Net. Outside work, he enjoys nature, movies, playing tennis, poker, biking and hiking (not to mention wine).

Follow Jana's Blog:
http://sqljana.wordpress.com/Twitter: @SQLJana

Instrument your code – Basic TSQL Logging
Well-instrumented code not only helps others with troubleshooting our code but it also helps with performance analysis and provides a good audit of runs over time. In this session we will explore a small framework for TSQL Logging that is easy to use and generic enough to fit simple and advanced use-cases. We will see how we can track messages, errors & duration of runs by code type without intruding on the functionality of common/shared code and how this functionality may be shared across databases with a single codebase. Tying DMV's to business logic side of what is in-flight, is covered. All of the code will be available for use in your own projects. Let us see how you can get your code instrumented on
Day 1!
2017 Tentative Meeting Dates:
---
We are saving these dates as the tentative meeting dates for 2017 Calendar year. We typically meet on the third Wednesday of each month.
We may change the meeting date depending on speaker availability and other factors, so please confirm via the official invitation before you commit to your calendar.
Wed Jan 18th 2017 (Third Wed)
Wed Feb 15th 2017 (Third Wed)
Wed Mar 8th 2017 (Second Wed)
Wed Apr 19th 2017 (Third Wed)
Wed May 17th 2017 (Third Wed)
Wed June 21st 2017 (Third Wed)
Wed July 19th 2017 (Third Wed)
Wed Aug 16th 2017 (Third Wed)
Wed Sept 20th 2017 (Third Wed)
Wed Oct 18th 2017 (Third Wed)
Wed Nov 15th 2017 (Third Wed)
Wed Dec 13th 2017 (Second Wed)