---
Charlotte, NC has a dynamic, growing business environment filled with opportunities for Microsoft SQL Server professionals. The goal of the Charlotte SQL Server User Group is to encourage and support the growth of that environment by providing a venue for user education and peer collaboration.
• Connect with Database Administrators and Business Intelligence professionals from the Charlotte, NC region at our monthly meetings. Free food is provided by our sponsors. • Share your knowledge within the Chapter and improve your presentation skills. • Grow your personal network with local business contacts and recruiters at our events • Improve your database skills with our excellent training delivered by the finest industry experts and MVPs
You are Invited – Join us for our monthly meetings
We meet once monthly for 2 hours for friendly networking and expert training sessions covering a variety of Microsoft SQL Server topics. Stay in touch to learn when the next meetup is planned, by signing up for our email announcements. It's free and food is provided. RSVP is required for each meeting using the email links provided monthly.
Next Meeting: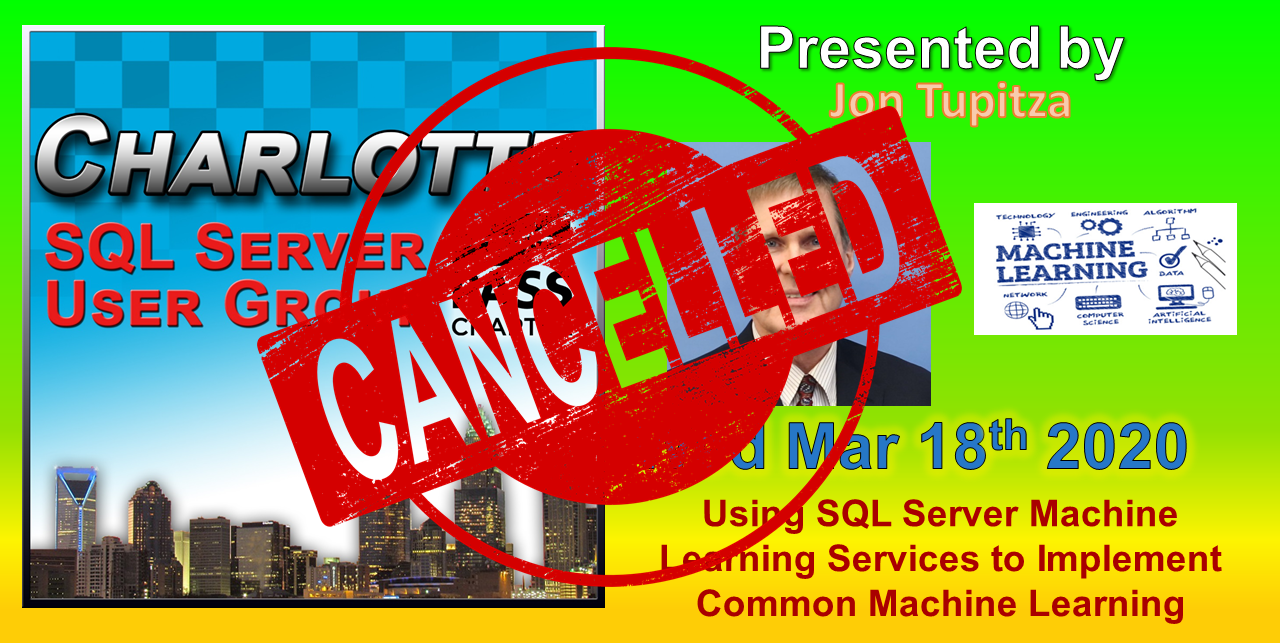 We at the Charlotte SQL Server User Group are always concerned for and want to do what's best for our community.  As such we regretfully have decided that we need to cancel our meeting scheduled for March 18th to ensure the safety of everybody.

We want to thank everybody who signed up.

We will try to get Jon rescheduled for later, and please stay tuned for information about our upcoming April meeting.

Thanks

CSUG Staff

 
 
 
 
---
2020 Meeting Dates:
We are saving these dates as the tentative meeting dates for 2020 Calendar year. We are able to reserve 6 months out, so the full annual schedule is not available, but we generally try to meet on the third Wednesday of the month. For the past few years, we've met in the same room, in AP1, at Microsoft.
We may change the meeting date depending on speaker availability and other factors, so please confirm via the official invitation before you commit to your calendar.
January 15, 2020 AP1 (Third Wed) 
February 19, 2020 AP1 (Third Wed)
March 18, 2020 AP1 (Third Wed) CANCELED!!!
April 15, 2020 AP1 (Third Wed)
May 20, 2020 AP1 (Third Wed)
June 17, 2020 AP1 (Third Wed)
July 15, 2020 AP1 (Third Wed)
August 19, 2020 AP1 (Third Wed)
September 16, 2020 AP1 (Third Wed)
October 14, 2020 AP1 (Third Wed)
November 18, 2020 AP1 (Third Wed)
December 16, 2020 AP1 (Third Wed) 
---
Other Charlotte Meetups:
---