---
Charlotte, NC has a dynamic, growing business environment filled with opportunities for Microsoft SQL Server professionals. The goal of the Charlotte SQL Server User Group is to encourage and support the growth of that environment by providing a venue for user education and peer collaboration.
• Connect with Database Administrators and Business Intelligence professionals from the Charlotte, NC region at our monthly meetings. Free food is provided by our sponsors.
• Share your knowledge within the Chapter and improve your presentation skills.
• Grow your personal network with local business contacts and recruiters at our events
• Improve your database skills with our excellent training delivered by the finest industry experts and MVPs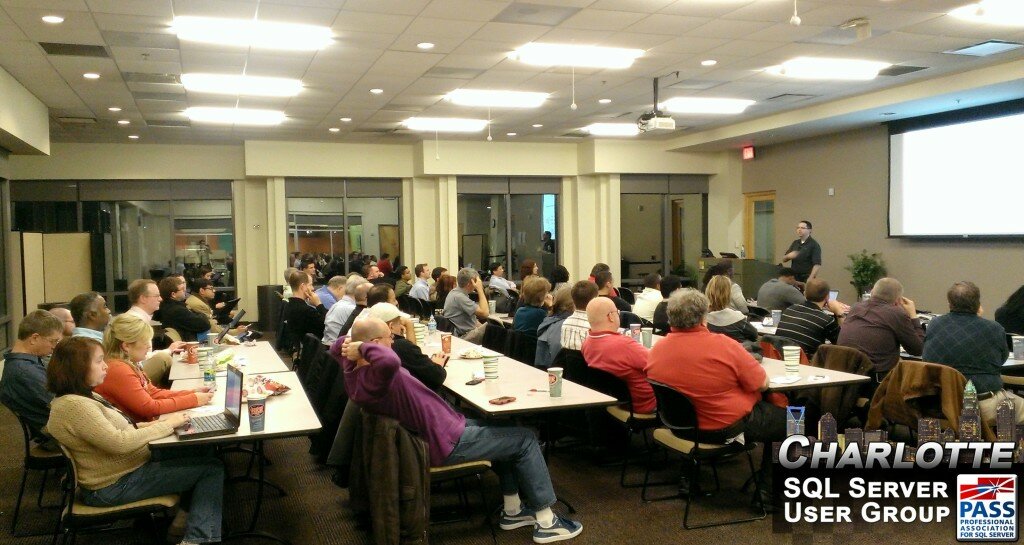 You are Invited – Join us for our monthly meetings
We meet once monthly for 2 hours for friendly networking and expert training sessions covering a variety of Microsoft SQL Server topics. Stay in touch to learn when the next meetup is planned, by signing up for our email announcements. It's free and food is provided. RSVP is required for each meeting using the email links provided monthly.
Next Meeting:
---
March Meeting Invitation
Please join us for the monthly Charlotte SQL Server User Group evening meeting.
What

~ Charlotte SQL Server User Group Meeting

When

~ Wednesday, March 8th, 2017

5:30 PM Networking with Food & Refreshments
6:00 PM Technical Presentation
7:30 PM Meeting End

Where

@ 8055 Microsoft Way, Charlotte, NC 28273

Map it

Presenter

 –

Jason Roth

Topic

– 

SQL Server vNext runs on Linux! 

Registration

– Free RSVP required at EventBrite
Jason Roth


Content Lead, Microsoft 


Over the past 20 years at Microsoft, Jason has served in various support and service roles, including C++ developer support, Premier Field Engineering, and Premier ISV consulting. During this time, he has worked extensively with SQL Server in both internal application development as well as customer engagements and trainings. For the past several years, he has worked as a content developer, covering Azure services and SQL Server. He is currently the lead for the content Microsoft releases for SQL Server on Azure Virtual Machines and SQL Server vNext on Linux. Past speaking engagements include Microsoft TechReady, SQL PASS, and Tech Ed.
Connect with Jason on LinkedIn
SQL Server vNext runs on Linux!
At Microsoft, it is an exciting time to see the huge push for interoperability, but it can also be daunting to keep up with the changes. In this session, Jason will cover one of the upcoming changes, which is SQL Server running on Linux. Because Linux knowledge is not a given for SQL Server users, he'll give a brief introduction to the Linux operating system. It is easy to spin up a Linux VM using Azure. During the talk, Jason will show how to install and connect to SQL Server running on an Azure VM. He'll then cover the SQL Server features and services that work on Linux. Demos will include database migration, server configuration, and tools, including the new SQL Server extension for Visual Studio Code.
2017 Tentative Meeting Dates:
---
We are saving these dates as the tentative meeting dates for 2017 Calendar year. We typically meet on the third Wednesday of each month.
We may change the meeting date depending on speaker availability and other factors, so please confirm via the official invitation before you commit to your calendar.
Wed Jan 18th 2017 (Third Wed)
Wed Feb 15th 2017 (Third Wed)
Wed Mar 8th 2017 (Second Wed)
Wed Apr 19th 2017 (Third Wed)
Wed May 17th 2017 (Third Wed)
Wed June 21st 2017 (Third Wed)
Wed July 19th 2017 (Third Wed)
Wed Aug 16th 2017 (Third Wed)
Wed Sept 20th 2017 (Third Wed)
Wed Oct 18th 2017 (Third Wed)
Wed Nov 15th 2017 (Third Wed)
Wed Dec 13th 2017 (Second Wed)