---
Charlotte, NC has a dynamic, growing business environment filled with opportunities for Microsoft SQL Server professionals. The goal of the Charlotte SQL Server User Group is to encourage and support the growth of that environment by providing a venue for user education and peer collaboration.
• Connect with Database Administrators and Business Intelligence professionals from the Charlotte, NC region at our monthly meetings. Free food is provided by our sponsors.
• Share your knowledge within the Chapter and improve your presentation skills.
• Grow your personal network with local business contacts and recruiters at our events
• Improve your database skills with our excellent training delivered by the finest industry experts and MVPs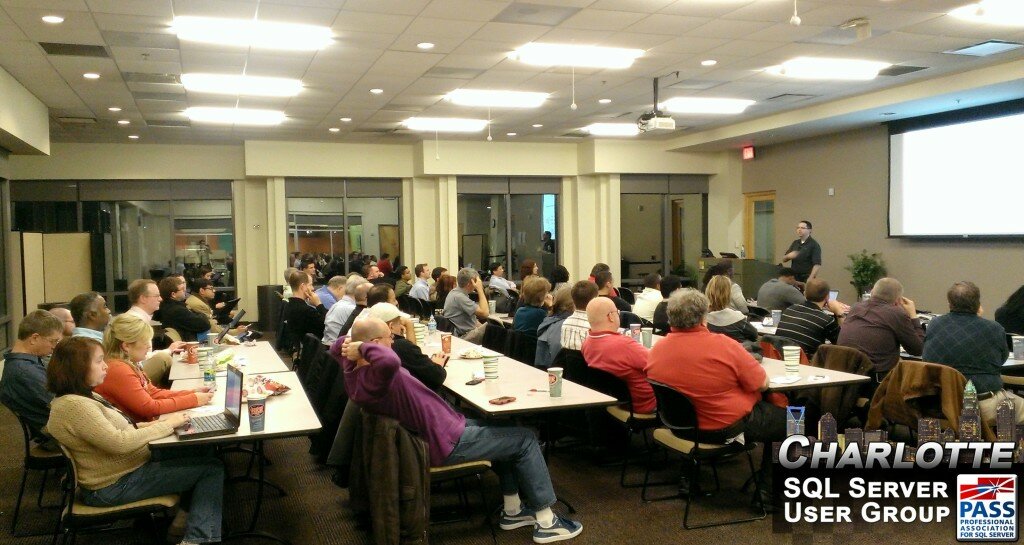 You are Invited – Join us for our monthly meetings
We meet once monthly for 2 hours for friendly networking and expert training sessions covering a variety of Microsoft SQL Server topics. Stay in touch to learn when the next meetup is planned, by signing up for our email announcements. It's free and food is provided. RSVP is required for each meeting using the email links provided monthly.
Next Meeting:
---
December Meeting Invitation
Please join us for the monthly Charlotte SQL Server User Group evening meeting.
What

~ Charlotte SQL Server User Group Meeting

When

~ Wednesday, December 14th, 2016

5:30 PM Networking with Food & Refreshments
6:00 PM Technical Presentation
7:30 PM Meeting End

Where

@ 8055 Microsoft Way, Charlotte, NC 28273

Map it

Presenter

 –

A Panel of 5 SQL Server MVPs

Topic

– 

Panel Discussion with the MVPs from SentryOne

Registration

– Free RSVP required at EventBrite

MVP Panelists
Greg Gonzalez (@SQLsensei) provides strategic leadership for SentryOne and is intimately involved with product design and development. Here he covers new features and how to use the software to optimize SQL Server performance.

Kevin Kline(@kekline) is responsible for expanding SentryOne's technical sales and marketing initiatives and is also heavily involved in product design activities. He is a founder and former president of PASS and the author of popular IT books like SQL in a Nutshell.

Kevin is a renowned database expert, software industry veteran, Microsoft SQL Server MVP, Google Author, and long-time blogger at sqlblog.com and at kevinekline.com. As a noted leader in the IT industry, Kevin's blog covers Microsoft SQL Server features and best practices, third-party software, trends in the IT industry, and professional development for IT professionals.

Allen White (@SQLRunr) is the Business Development Manager at SentryOne, where he manages relationship with our partners, helping them leverage the power of the SentryOne platform to improve their ability to help their customers get the best possible performance out of their corporate servers. He's worked with SQL Server for over 20 years in a variety of roles – developer, administrator, architect, analyst – and built a successful consulting practice, so he understands the special needs of that partner relationship.

Aaron Bertrand (@AaronBertrand) is a Product Evangelist at SentryOne with industry experience dating back to Classic ASP and SQL Server 6.5. He is editor-in-chief of the performance-related blog, SQLPerformance.com, and serves as a moderator for Q & A sites answers.SQLPerformance.com and dba.stackexchange.com.

Aaron's blog focuses on T-SQL bad habits and best practices, as well as coverage of updates and new features in Plan Explorer, SentryOne, and SQL Server.

Melissa Coates (@SQLChick) is a Business Intelligence Architect with SentryOne. Based in Charlotte, NC, she specializes in delivering Analytics, Data Warehousing, and Business Intelligence solutions using on-premises, cloud, and hybrid technologies.  Formerly a CPA, Melissa is ridiculously proud to be an IT geek and downright giddy to be a Microsoft Data Platform MVP.  When Melissa steps away from the keyboard, you can probably find her hanging out with her border collie, paddle boarding, playing in the garden, or with her nose in a book.  Melissa blogs at sqlchick.com.

Panel Discussion with the MVPs from SentryOne
There are fewer than 400 SQL Server MVPs in the world and we're privileged to have five of them at our December user group meeting! SQL Server MVPs are recognized by Microsoft for their contributions to the SQL Server community in sharing their expertise and enthusiasm through blogs, presentations, papers, and by being early adopters, experimenting with new technologies and telling others their experiences. Don't miss this opportunity to hear this panel of SQL Server experts!
2016 Tentative Meeting Dates:
---
We are saving these dates as the tentative meeting dates for 2016 Calendar year. We typically meet on the third Wednesday of each month.
We may change the meeting date depending on speaker availability and other factors, so please confirm via the official invitation before you commit to your calendar.
Wed Jan 20th 2016 (Third Wed)
Wed Feb 10th 2016 (Second Wed)
Wed Mar 9th 2016  (Second Wed)
Wed Apr 13th 2016 (Second Wed)
Wed May 11th 2016 (Second Wed)
Wed June 8th 2016 (Second Wed)
Wed July 20th 2016 (Third Wed)
Wed Aug 24th 2016 (Third Wed)
Wed Sept 21st 2016 (Third Wed)
Wed Oct 19th 2016 (Third Wed)
Wed Nov 16th 2016 (Third Wed)
Wed Dec 14th 2016 (Second Wed)