---
Charlotte, NC has a dynamic, growing business environment filled with opportunities for Microsoft SQL Server professionals. The goal of the Charlotte SQL Server User Group is to encourage and support the growth of that environment by providing a venue for user education and peer collaboration.
• Connect with Database Administrators and Business Intelligence professionals from the Charlotte, NC region at our monthly meetings. Free food is provided by our sponsors.
• Share your knowledge within the Chapter and improve your presentation skills.
• Grow your personal network with local business contacts and recruiters at our events
• Improve your database skills with our excellent training delivered by the finest industry experts and MVPs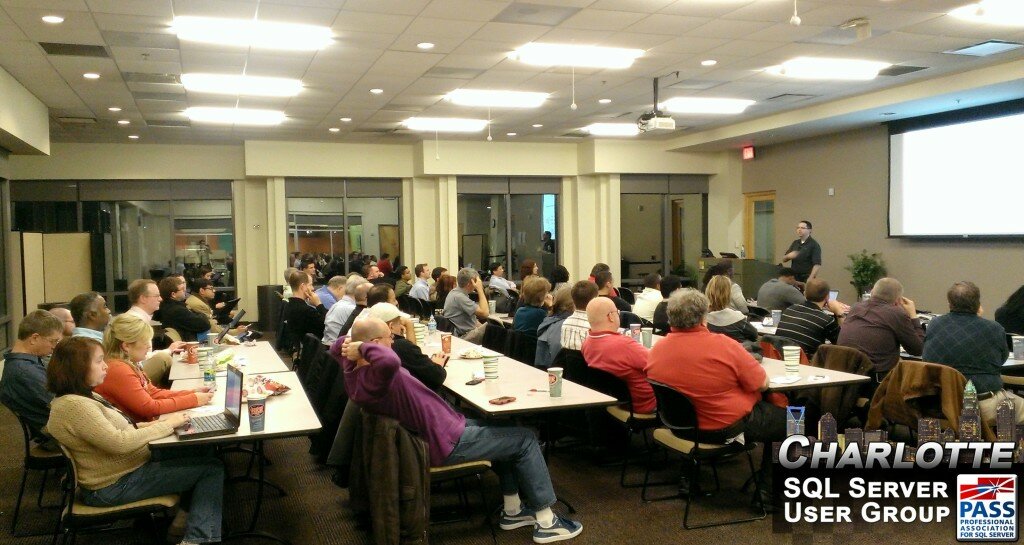 You are Invited – Join us for our monthly meetings
We meet once monthly for 2 hours for friendly networking and expert training sessions covering a variety of Microsoft SQL Server topics. Stay in touch to learn when the next meetup is planned, by signing up for our email announcements. It's free and food is provided. RSVP is required for each meeting using the email links provided monthly.
Next Meeting:
---
September Meeting Invitation
Please join us for the monthly Charlotte SQL Server User Group evening meeting.
What

~ Charlotte SQL Server User Group Meeting

When

~ Wednesday, September 16th, 2015

5:30 PM Networking with Food & Refreshments
6:00 PM Technical Presentation
7:30 PM Meeting End

Where

@ 8055 Microsoft Way, Charlotte, NC 28273

Map it

Presenter

– 

Dave Turpin

Topic

– De-Mystifying SQL Server Statistics
The Ascending Key Problem

Registration

– Free RSVP required at EventBrite
Dave Turpin 

 Lead DBA, Quaero
Dave has been working with SQL Server since 1996 as a developer, IT manager, and most recently DBA. He is employed by Quaero, a first party audience data and analytics company. He also manages two Netezza massive parallel data warehouse appliances. His interests include the SQL Optimizer, query engine, performance tuning and event alerting. Although he has BS and MS degrees in computer science, most of what he knows that is worth sharing has been learned at the School of Hard Knocks. He is easily excited when he learns something new about SQL Server. He has presented some of those topics at several SQL Server focused training events.
Visit Dave's Blog at http://www.daveturpin.com
Follow Dave on Twitter: www.twitter.com/sobrietytesting

De-Mystifying SQL Server Statistics: The Ascending Key Problem 

 In order to build optimal query plans the SQL Server optimizer relies on statistics to estimate the size of the query workload. This session will demonstrate how to determine if your statistics are current, how to make them current, and how bad things can happen when they are not current. After covering some general topics to understand the state of statistics on an index or column statistic, this session will demonstrate how the optimizer in SQL Server 2014 was improved such that queries that will not finish in SQL 2008R2 and SQL 2012 suddenly do in SQL 2014. Although the ascending key problem has broad implications, it is particularly relevant to data professionals responsible for developing and managing data warehouse loads.
National Conference & Discount
Several thousand SQL Server users, database administrators, and database developers gather each year at the PASS Summit–a national conference with top notch networking, keynotes presented by the most influential experts in the field, and over 175 choices for breakout sessions to go in depth.

This year's Summit is at the Washington State Convention and Trade Center in downtown Seattle, WA.
The dates are – Main Conference Oct 28-30th, Preconference Oct 26-27th
We have a special Charlotte SQL Server User Group Referral code: LC15SNQ2
This will give you  $150 off the PASS Summit registration, and kicks back at least $50 to our local user group chapter.
Register at http://www.sqlpass.org/summit/2015/RegisterNow.aspx