---
Charlotte, NC has a dynamic, growing business environment filled with opportunities for Microsoft SQL Server professionals. The goal of the Charlotte SQL Server User Group is to encourage and support the growth of that environment by providing a venue for user education and peer collaboration.
• Connect with Database Administrators and Business Intelligence professionals from the Charlotte, NC region at our monthly meetings. Free food is provided by our sponsors.
• Share your knowledge within the Chapter and improve your presentation skills.
• Grow your personal network with local business contacts and recruiters at our events
• Improve your database skills with our excellent training delivered by the finest industry experts and MVPs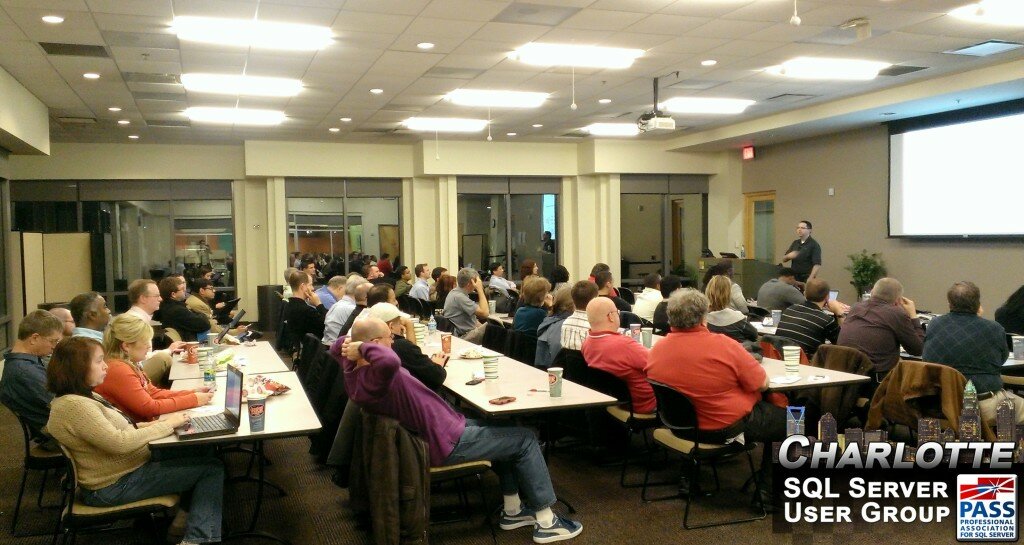 You are Invited – Join us for our monthly meetings
We meet once monthly for 2 hours for friendly networking and expert training sessions covering a variety of Microsoft SQL Server topics. Stay in touch to learn when the next meetup is planned, by signing up for our email announcements. It's free and food is provided. RSVP is required for each meeting using the email links provided monthly.
Next Meeting:
---
February Meeting Invitation
Please join us for the monthly Charlotte SQL Server User Group evening meeting.
What

~ Charlotte SQL Server User Group Meeting

When

~ Wednesday, February 15th, 2017

5:30 PM Networking with Food & Refreshments
6:00 PM Technical Presentation
7:30 PM Meeting End

Where

@ 8055 Microsoft Way, Charlotte, NC 28273

Map it

Presenter

 –

Jeff Smith

Topic

– 

SQL Developer Data Modeler

Registration

– Free RSVP required at EventBrite
Jeff Smith


Product Manager, Oracle


Jeff Smith is "that" crazy database guy. He's a proud father, husband, runner and a software and database geek by trade. Jeff calls the Raleigh/Durham metropolitan area home. He was born and raised in West Virginia, and claims to be a reformed hillbilly.Jeff is currently a Product Manager for Oracle, working on the SQL Developer team. His true passion lies in helping people maximize their productivity and retain sanity while working with database development and administration tools.

You can read Jeff's blog here:

Twitter @thatjeffsmith

SQL Developer Data Modeler
Data Modeling for the SQL Server Professional using Oracle SQL Developer…and other Free Resources from Oracle.Oracle's SQL Developer product manager, Jeff Smith, will show how you can build a logical data model and engineer it into a SQL Server  implementation. Generate DDL, reverse engineer existing SQL databases, and create rich data dictionary reports – for free.Jeff will also demonstrate some other free tools Oracle provides of interest to the data professional.
2017 Tentative Meeting Dates:
---
We are saving these dates as the tentative meeting dates for 2017 Calendar year. We typically meet on the third Wednesday of each month.
We may change the meeting date depending on speaker availability and other factors, so please confirm via the official invitation before you commit to your calendar.
Wed Jan 18th 2017 (Third Wed)
Wed Feb 15th 2017 (Third Wed)
Wed Mar 8th 2017 (Second Wed)
Wed Apr 19th 2017 (Third Wed)
Wed May 17th 2017 (Third Wed)
Wed June 21st 2017 (Third Wed)
Wed July 19th 2017 (Third Wed)
Wed Aug 16th 2017 (Third Wed)
Wed Sept 20th 2017 (Third Wed)
Wed Oct 18th 2017 (Third Wed)
Wed Nov 15th 2017 (Third Wed)
Wed Dec 13th 2017 (Second Wed)