---
Charlotte, NC has a dynamic, growing business environment filled with opportunities for Microsoft SQL Server professionals. The goal of the Charlotte SQL Server User Group is to encourage and support the growth of that environment by providing a venue for user education and peer collaboration.
• Connect with Database Administrators and Business Intelligence professionals from the Charlotte, NC region at our monthly meetings. Free food is provided by our sponsors.
• Share your knowledge within the Chapter and improve your presentation skills.
• Grow your personal network with local business contacts and recruiters at our events
• Improve your database skills with our excellent training delivered by the finest industry experts and MVPs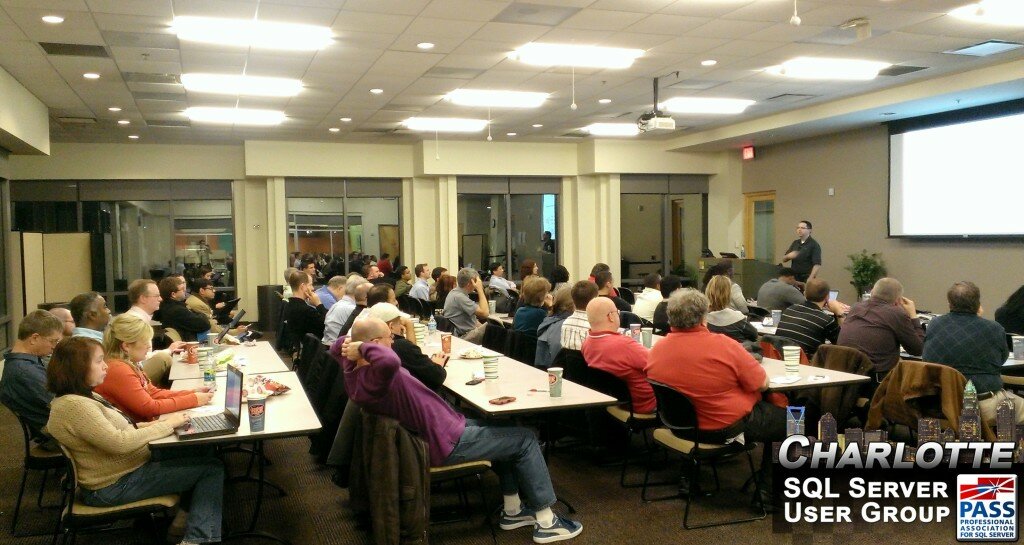 You are Invited – Join us for our monthly meetings
We meet once monthly for 2 hours for friendly networking and expert training sessions covering a variety of Microsoft SQL Server topics. Stay in touch to learn when the next meetup is planned, by signing up for our email announcements. It's free and food is provided. RSVP is required for each meeting using the email links provided monthly.
Next Meeting:
---
October Meeting Invitation
Please join us for the monthly Charlotte SQL Server User Group evening meeting.
What

~ Charlotte SQL Server User Group Meeting

When

~ Wednesday, October 21st, 2015

5:30 PM Networking with Food & Refreshments
6:00 PM Technical Presentation
7:30 PM Meeting End

Where

@ 8055 Microsoft Way, Charlotte, NC 28273

Map it

Presenter

– 

Jana Sattainathan

Topic

– Small Scale Data Collection Using PowerShell
~ Going NSA Style!

Registration

– Free RSVP required at EventBrite
Jana Sattainathan

 Sr. DBA, SCOR
Jana works as a Senior Oracle and SQL Server DBA at SCOR, a leading Reinsurance company in the world. He has spent most of his professional life around databases. At work, he has automated most aspects of his job using PowerShell. Most recently, he created PowerPump, a "PowerShell Database Copy Server" for his company to copy 13 billion rows (7 TB, within 20 hours) from hundreds of Oracle/SQL Server tables on a recurring basis to SQL Server targets for migration/testing.In his free time, he dabbles in .Net. He has an MCITP in SQL Server Administration as well as Development and is an Oracle Certified Professional DBA. Outside work, he enjoys nature, movies, playing tennis, poker, biking and hiking (not to mention wine).Visit Jana's Blog at hhttp://www.sqljana.wordpress.com
Follow Jana on Twitter: www.twitter.com/SQLJana
Small Scale Data Collection Using PowerShell
– Going NSA Style! While we are not the NSA, certain vital data needs to be collected (for example audit data, trace data, session information, performance data etc.) all to a central SQL Server repository, for analysis and safekeeping. In this session, we will see how freely-available PowerShell code can be used to collect data from multiple SQL Server instances/databases/OS. At the end of this session, you will have the knowledge and ability to collect pretty much any data in a central repository in a scheduled manner or online with just a couple of lines of code, all in a manner that works specifically for you!If time permits, we will dive into advanced techniques in data collection like parallelizing the data collection to collect millions of rows of data in a matter of minutes.
National Conference & Discount
Several thousand SQL Server users, database administrators, and database developers gather each year at the PASS Summit–a national conference with top notch networking, keynotes presented by the most influential experts in the field, and over 175 choices for breakout sessions to go in depth.

This year's Summit is at the Washington State Convention and Trade Center in downtown Seattle, WA.
The dates are – Main Conference Oct 28-30th, Preconference Oct 26-27th
We have a special Charlotte SQL Server User Group Referral code: LC15SNQ2
This will give you  $150 off the PASS Summit registration, and kicks back at least $50 to our local user group chapter.
Register at http://www.sqlpass.org/summit/2015/RegisterNow.aspx