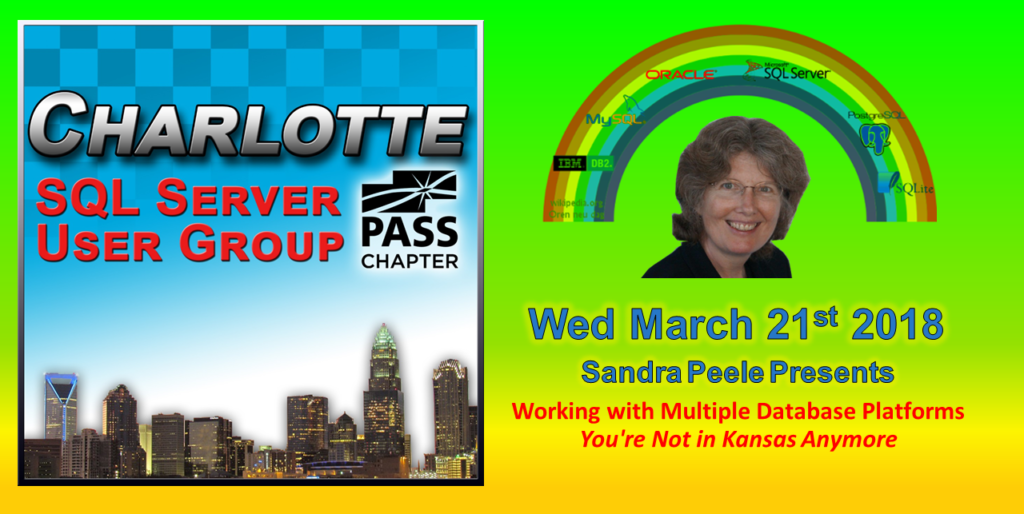 March Meeting Invitation
Please join us for the monthly Charlotte SQL Server User Group evening meeting.
What

~ Charlotte SQL Server User Group Meeting

When

~ Wednesday, March 21st, 2018

5:30 PM Networking with Food & Refreshments
6:00 PM Technical Presentation
7:30 PM Meeting End

Where

@ 8050 Microsoft Way, Charlotte, NC 28273

Map it

Presenter

 – 

Sandra Peele

Topic

– Working with Multiple DBMS Platforms:
                You're Not in Kansas Anymore

Registration

– Free RSVP required at EventBrite
Sandra Peele
SQL Developer, CMI Solutions
Sandra Peele started her career in the 1980's as a demand forecaster in the materials planning department of AT&T Network Systems.  She left the workforce in 1990 to raise a family and in 2010, returned to school to study database technology.   She has both  MSCE: Data Management and Analytics and Oracle 11g OCA certifications and has taught database courses at CPCC.  She is currently working toward the Microsoft Professional Program Certificate in Data Science.  Sandra is a SQL Developer at CMI Solutions, a Microsoft Partner specializing in software for convenience stores.

Working with Multiple DBMS Platforms: You're Not in Kansas Anymore
Imagine you have a new employee with valuable SQL experience, but from a different DBMS platform.  Or imagine you've been assigned to a project that involves a DBMS other than SQL Server.  What do you need to know?  In this high-level presentation, Sandra will highlight differences between default installations of Oracle, Postgres, DB2, SQLite, MySQL, and SQL Server.  She'll share her experience moving from one platform to another and what she has found to be the most important thing to keep in mind when working with a new DBMS or working with a new employee who comes from another DBMS environment.

This presentation is for anyone with a basic knowledge of SQL.  It was co-produced with Stéphane Faroult, author of The Art of SQL, SQL Success and other technical books.  The presentation uses techniques found in his latest book, Getting the Message Across: Using Slideware Effectively for Technical Presentations.