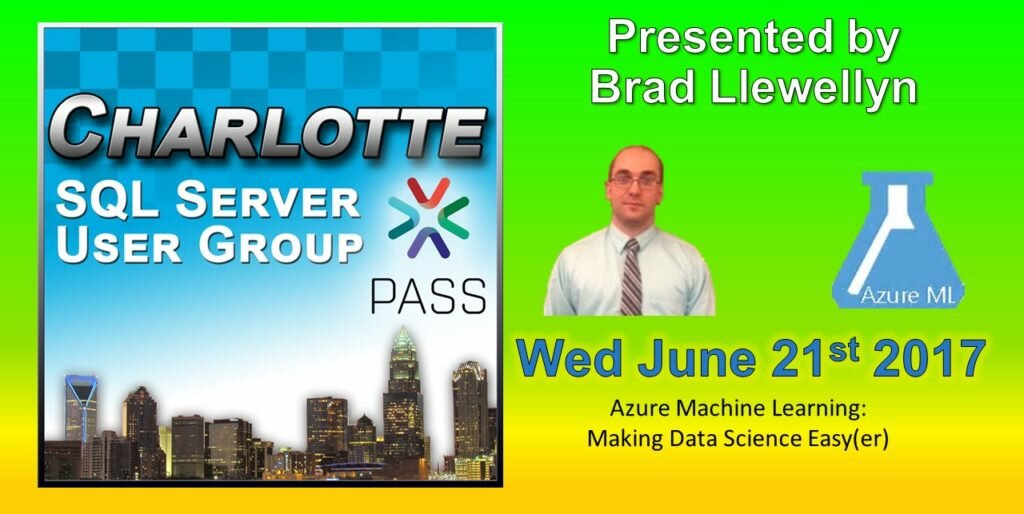 June Meeting Invitation
Please join us for the monthly Charlotte SQL Server User Group evening meeting.
What

~ Charlotte SQL Server User Group Meeting

When

~ Wednesday, June 21st, 2017

5:30 PM Networking with Food & Refreshments
6:00 PM Technical Presentation
7:30 PM Meeting End

Where

@ 8055 Microsoft Way, Charlotte, NC 28273

Map it

Presenter

 –

Brad Llewellyn

Topic

–

Azure Machine Learning: Making Data Science Easy(er)

Registration

– Free RSVP required at EventBrite
Brad Llewellyn
Data Scientist at Valorem 

Brad is a Data Scientist at Valorem in Charlotte, NC. He has an M.S. in Statistics from the University of South Carolina and an MCSE Certification in Data Management and Analytics. He is currently working on an MCSE Certification in Cloud Platform and Infrastructure. At Valorem, Brad's role involves educating clients and colleagues about Microsoft Data Science offerings, as well as how to fully utilize these offerings to solve business problems. Brad is an active blogger at breaking-bi.blogspot.com.
Connect with Brad on LinkedIn

Azure Machine Learning: Making Data Science Easy(er)
There's a ton of buzz around Data Science and Machine Learning.  What is it?  What can we do with it?  Do I have to learn a new language or tool?  In this presentation, we'll walk through an example of how to use Azure Machine Learning to predict the prices of automobiles.  During this presentation, we'll see how easy it is to (1) Set up an Azure Machine Learning workspace, (2) Clean up our data for modeling, (3) Train and Evaluate a predictive model and (4) Publish this model as an easily consumable web service.  This will be a highly interactive demonstration, so bring your data hats!